Embark on VISAFruit's journey of delivering top-tier tropical products, expanding their reach, and ensuring high-quality standards across North America
In the dynamic world of imports and exports, standing out requires more than just a good product. It demands a vision, a purpose, and an unwavering commitment to standards. VISAFruit, a leading pineapple importer in the USA and Canada, embodies this principle. With a diverse range of offerings – from fresh to frozen pineapples, delectable pineapple juice, and even the tropical treat of cassava – VISAFruit is revolutionizing the way North America perceives tropical products.
Supplying Supermarkets: A Fresh Approach
VISAFruit's endeavors in the North American market began with a simple but powerful idea: why not supply supermarkets with the freshest tropical products? As a result, VISAFruit has been actively seeking contracts with top supermarkets, ensuring that consumers can easily access their high-quality fresh and frozen pineapples, cassava, pineapple juice, and dehydrated pineapple.
Through these partnerships, VISAFruit promises freshness and flavor on every shelf. The sight of a VISAFruit product in a supermarket is an assurance of taste, quality, and authenticity.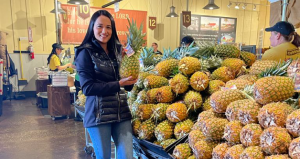 Serving Caterers: Uplifting Every Menu
While supermarkets have been a significant focus, caterers too are at the heart of VISAFruit's mission. Recognizing the booming catering industry's need for tropical flavors, VISAFruit aims to establish lasting relationships with catering service companies.
The goal? To infuse their menus with top-notch tropical products. From a refreshing pineapple juice drink to complement a summer luncheon to cassava delicacies that can add an exotic touch to any event, VISAFruit's offerings promise to elevate the culinary experiences provided by caterers.
Empowering Consumers: Quality at the Forefront
In every endeavor, VISAFruit's central mission remains consistent – empowering consumers. By maintaining high standards and offering unparalleled customer service, the company ensures that every consumer not only gets the best tropical products but also understands their value.
The emphasis on healthier and high-quality produce means that when a consumer chooses VISAFruit, they are choosing a lifestyle. A lifestyle that prioritizes health without compromising on taste. Every product, be it a juicy pineapple or dehydrated treat, stands as a testament to the brand's commitment to its customers.
Expanding Distribution: A Vision for Growth
While VISAFruit has already made significant strides in the North American market, the journey is far from over. The company's vision is clear: to reach more states and broaden its distribution.
In this endeavor, VISAFruit has collaborated with MrCheckout, which functions as the company's buyers' agent. This partnership entails working with their extensive broker network, both nationally and internationally. The aim? To get VISAFruit's tropical products into big-box stores, amplifying their reach. The collaboration has already borne fruit, with products now available for C-store distributors in almost every significant big-box retailer.
It's not just about expansion for the sake of growth. It's about ensuring that more consumers across North America get access to VISAFruit's impeccable range of tropical products. It's a promise of quality, taste, and authenticity, no matter where you are.
In Conclusion
VISAFruit's journey in the North American market is a narrative of growth, commitment, and an undying passion for bringing the best of the tropics to every household, caterer, and store. As the company continues to expand its horizons, its core principles remain the same. From supplying supermarkets with the freshest produce to serving caterers with the best tropical offerings, from empowering consumers with high-quality products to expanding distribution across the continent, VISAFruit is not just an importer. It's a brand that represents trust, quality, and the delightful flavors of the tropics.